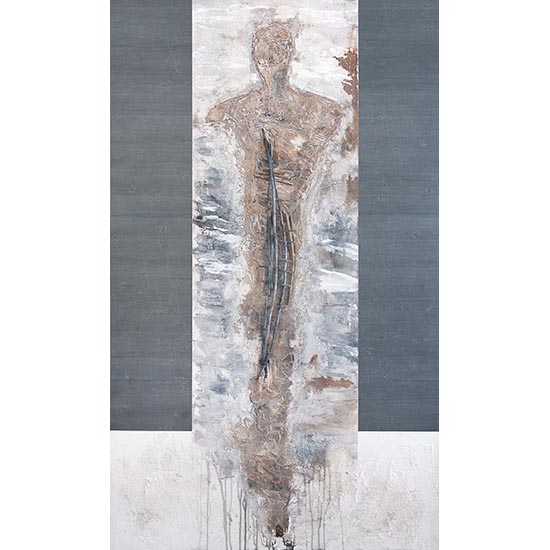 tom Matucci                             Special Projects

MAYA ROMANOFF TO DEBUT FINE ART COLLABORATIVE SERIES

(April 2013) Chicago, IL -  Maya Romanoff, the largest premier high-end handmade wallcovering company in North America,  is excited to partner with internationally acclaimed artist Tom Matucci to inaugurate their collaborative fine art series, "Maya and the Artist".  An opening reception with the artist will be held Thursday, May 2nd, 5-8p in the Maya Romanoff Flagship Showroom in Chicago's Merchandise Mart, Suite 6-167.

In this series, Maya Romanoff hands over hundreds of yards of handmade material to an artist, challenging them to create a new hybrid body of work that will then be displayed in a mini-gallery exhibition in their Chicago Flagship showroom.  In the spirit of artistic partnership and support, "Maya and the Artist" will be an ongoing series of such collaborations.

Chicago-based Matucci has taken his practiced aesthetic of textured, atmospheric figurative painting, and incorporated pieces of Maya Romanoff's famous surfacing materials to create a bridge between the tools of an interior designer and of the fine artist. "It turned out to be far more challenging than I initially thought it would be, but I am energized by challenges, and thoroughly enjoyed the process," commented Matucci.

About the artist:

Matucci is known for his rich textures and organic forms--a tactile look is achieved, delighting the sense of touch as well as sight. Dynamic and complex, his paintings walk the line between depiction and suggestion. Matucci's artwork is represented in galleries nationwide, and has been exhibited in solo and group shows.  His collectors span the globe from Napa Valley to Hollywood, Atlanta to Houston, Chicago to New York, South Africa to Paris.